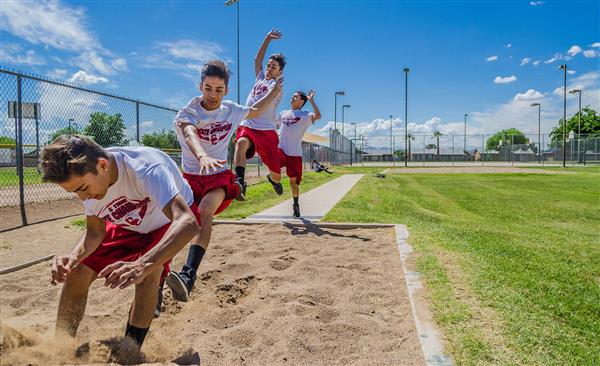 Athletics Information
Peoria Unified is proud of its award-winning athletics programs. To find more information about participating in, sponsoring, or attending athletic events in the district, please visit the school website.

For questions, comments or concerns about Athletics, please reach out directly to the Atheletic Director at your school site (high school) or school administration (elementary school).
Winter Sports 2020-21 Information
Peoria Unified takes guidance from the Arizona Interscholastic Association (AIA) for athletics. The executive board of the Arizona Interscholastic Association (AIA) met in a special session last week and made the decision to cancel the winter sports season for student athletes. Today, the AIA executive board reconvened to further discuss and re-evaluate the decision based on feedback from its member schools. After additional debate and consideration, the executive board voted to overturn their cancellation and reinstate winter sports to begin on the original date of January 18.



The AIA has outlined new modifications that have been added to previous restrictions that were in place for the first semester. The additional AIA modifications, as voted on by the executive board, will be implemented at all of our high school sites in order for our teams to practice and play:


1. Up to two parents or legal guardians may attend their student-athlete's games as allowed by the school and county guidelines.
2. All students, coaches, and officials will be required to wear a cloth mask or gaiter for the entirety of a game/contest.
3. Each school will complete the AIA COVID-19 Athlete/Coach Monitoring From the day of all games/contests and provide a copy to the opposing school prior to the contest.
4. Any school that violates any of the mandatory modifications, including the COVID-19 Return to Play Form, will lose access to AIA officiating.


You can view the complete winter sports modifications, return to play guidelines and the statement from their decision on the AIA website.