Athletics
We are pleased that you are interested in participating in athletic extra-curricular activities! We want our students to be involved as possible at Lake Pleasant, and being a student-athlete is an excellent way to do this.

Cross Country

For students in 3rd - 8th grade, Cross Country is available in the fall (meets run Sept 9 - October 25) and is one of our most popular athletic programs here at Lake Pleasant Elementary.

In addition, 5th - 8th grade students have an opportunity to try out for a district Track and Field event within their PE classes. This occurs during the spring semester.

Click here for more information about Cross Country.

Lake Pleasant Elementary also has 3 sports seasons for 7th and 8th grade boys and girls.

Fall sports

Girls Volleyball and Boys Flag Football (Games are September 5th - October 10th. Tournaments will be Oct 27 - 30).

Girls Volleyball Tryouts (7th and 8th grade only) are August 14th, 15th and 16th from 3:15 - 5:00 pm in the gym. Click here for flyer.

Tryouts for the 6th grade instructional team is Monday, August 13th from 3:15 - 4:45 pm. Click here for flyer.

Boys Flag Football Tryouts (7th and 8th grade only) are August 13th and 14th from 3:15 to 4:30 pm. Click here for flyer.

Winter sports

Boys Basketball and Girls Softball (Games are November 28 - January 23. Tournaments will be January 26-31)

Girls Softball Tryouts are October 24th, 25th and 26th from 3:15 to 5:00 pm on the field.

Boys Basketball Tryouts

Spring Sports

Girls Basketball and Boys Softball (March 6 - April 24. Tournaments will be April 27 - May 2)

Tryout information: Boys Softball Tryouts are Feb. 5th & 6th 3:15 to 5:00 pm. Girls Basketball Tryouts are Feb. 5th - 7th 3:15 to 5:00 pm.
Athletic Fees
Athletic fees are $25 per sport, with a maximum of $50 for the school year.

Regular season games are free for families and friends to attend.

Tournament games are $3 for each spectator.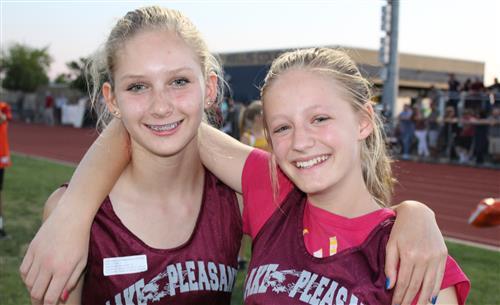 CONTACT
Girls Volleyball:

Brittanie Lopez, Coach Email

Boys Flag Football:

Mark Krichbaum, Coach Email

Cross Country:

Juli Wagner, Coach Email

Boys Basketball:

James Wagner, Coach Email

Girls Softball:

Brittanie Lopez, Coach Email

Erica Rhodes, Coach Email

Girls Basketball:

Juli Wagner, Coach Email

Boys Softball:

Caleb Wood, Coach Email

Jessica Bartels

Assistant Principal