The Peoria Unified School District is proud to offer the KidZone program, our innovative before and after school care program. Through this program, K-8 students are able to learn and interact in a safe, caring environment. The KidZone Mission is to provide a physically and emotionally safe environment where children can participate in engaging activities and build positive relationships.

KidZone is currently available in the following Peoria Unified elementary schools in the city of Glendale: Copperwood, Desert Palms, Desert Valley, Foothills, Heritage, Kachina, Marshall Ranch and Sahuaro Ranch.

Transportation is available for Kachina Elementary School students to attend KidZone at Canyon Elementary School. Transportation is also available for Pioneer Elementary School students to attend KidZone at Foothills Elementary School.
KIDZONE PAYMENT INFORMATION
PAYMENT INFORMATION

Cash and check payments will only be accepted at the following three Peoria Unified locations:

· The Preschool Office at Sky View Elementary School: 8624 W. Sweetwater Ave., Peoria, AZ 85381. Office hours are 8 a.m. – 3:30 p.m.

· The KidZone Office at Desert Valley Elementary School: 12901 N. 63rd Ave, Glendale, AZ 85304. Office hours are 8 a.m. – 4 p.m.

· The District Administration Center: 6330 W. Thunderbird Rd., Glendale, AZ 85306. Office hours are 7:30 a.m. – 4:30 p.m.

In addition to the three locations listed above, you can make a credit card payment online at any time through ParentVUE.

For questions about the online payment process, click here.

If you have any questions or concerns, please contact the KidZone Office at 623-773-6688.

We appreciate your cooperation while we streamline our payment processes.
Important Information
If you need to make any changes to your current contract, you must complete a "Change to KidZone Contract" form. Click here to access the form. Please complete a new calendar and attach it to the change form.

Changes to contracts can be submitted in person or scanned and emailed to Connie Flusche or Michelle McArdle

Please note that all contract changes must be made at least two weeks in advance. Thank you!
EdCamp
EdCamp is a full day program that is offered when school is not in session, such as Professional Development Days or holidays. Registration is now open for our Spring Break EdCamp. Find out more.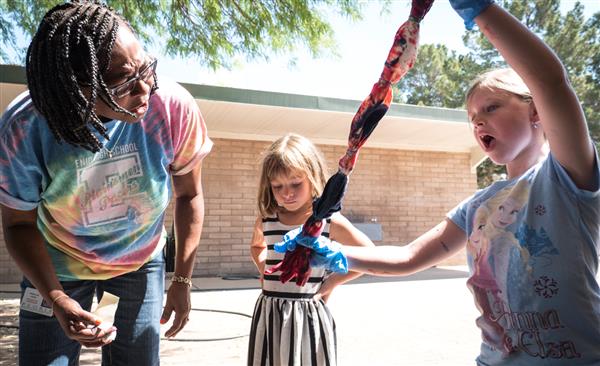 KidZone Office Hours
The KidZone Office at Desert Valley Elementary is open Monday through Friday from 8 a.m. to 4:00 p.m.
Classroom Site Numbers
Canyon Elementary

623-201-9338

Copperwood Elementary
623-201-9295

Desert Palms Elementary
623-512-2224

Desert Valley Elementary
623-512-2216

Foothills Elementary
623-512-2217

Heritage Elementary
623-277-6667

Marshall Ranch Elementary
623-512-2223

Sahuaro Ranch Elementary
623-512-2067