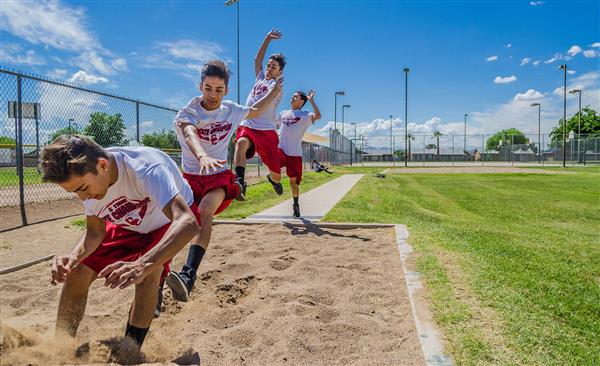 Athletics Information
Peoria Unified is proud of its award-winning athletics programs. To find more information about participating in, sponsoring, or attending athletic events in the district, please visit the school website.

For questions, comments or concerns about Athletics, please reach out directly to the Atheletic Director at your school site (high school) or school administration (elementary school).
Winter/Spring Sports 2020-21 Information
Peoria Unified takes guidance from the Arizona Interscholastic Association (AIA) for athletics. The AIA Executive Board has lifted the mandate for masks to be worn during competition for winter playoffs and all spring sports. All parents, coaches, and bench personnel are required to wear masks at all times during competition.


Peoria Unified will continue ticketing procedures from winter sports into the spring season:

Visiting schools will receive two tickets per athlete (baseball, softball, boys volleyball, tennis).
Home team athletes entire family (parents and siblings) will have access to the game.
Due to large numbers in track and field, we can only allow home spectators into the event.
All games will continue to be streamed online.


The AIA has outlined new modifications that have been added to previous restrictions that were in place for the fall and winter sports seasons. You can view the complete winter and spring sports modifications and return to play guidelines on the AIA website.