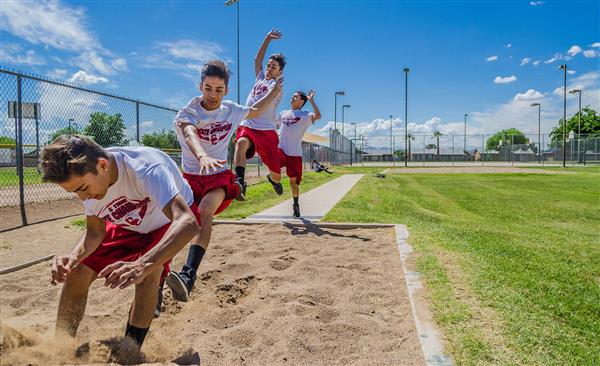 Athletics Information
Peoria Unified is proud of its award-winning athletics programs. To find more information about participating in, sponsoring, or attending athletic events in the district, please visit the school website.

For questions, comments or concerns about Athletics, please reach out directly to the Atheletic Director at your school site (high school) or school administration (elementary school).
Fall 2020-21 Information
Peoria Unified takes guidance from the Arizona Interscholastic Association (AIA) for athletics. The Arizona Interscholastic Association (AIA) approved a fall 2020 interscholastic athletics calendar that is in effect now.

Elementary Athletics

Elementary athletics have been postponed for the time being. Currently, only high school athletes are allowed to train and prepare for the fall season therefore, for the health and safety of our elementary school student athletes, it was determined to postpone until it is safe for these students to be on campus and receive the training and preparation needed for their sports season. As the situation with COVID-19 is very fluid, this will be re-evaluated and should there be any updates, we will notify families at that time.

High schools have 2-3 athletic trainers that can screen athletes daily, elementary do not. These same trainers can disinfect water jugs daily.
High schools have multiple coaches that can create small groups socially distanced to follow AIA/Peoria Unified protocol
High schools have night maintenance that can help with disinfecting equipment/rooms daily
High schools abide by the AIA governing body, elementary schools do not. The AIA said the season is currently still going to go.
High schools have a white fleet where we can transport students social distanced, using multiple vehicles, elementary does not.
High school students have an annual physical on file cleared by a doctor along with a COVID-19 release, elementary does not have either.

High School Athletics

High School Athletics fall sports are currently in season. Football, Volleyball, Badminton, Golf, Cheer, Cross Country, and Swim are currently competing with other AIA member schools. Our teams abide by the recommendations and game modifications set forth by the Arizona Interscholastic Association (AIA). Our facilities will be open to spectators beginning with the first competitions. Each athlete (including cheer and band) will be allowed two tickets to home games. A ticketholder must present the ticket at the gate to gain entry into the facility. Spectators without a ticket will not be allowed into the facility or have the ability to purchase a ticket. Visiting games attendance policies are at the discretion of the opposing school and district. Please contact the opposing team for any relevant spectator information.

Beginning Sept 28th when in-person schooling begins, our winter and spring sports will begin offseason training in which all workouts are voluntary and not mandatory. Off season sports will adhere to current protocol which includes:

The weight room is limited to two athletes per power rack station (8 racks = 16 athletes)
Weight equipment should be wiped down intermittently
ALL coaches and support staff will wear a mask
ALL students will wear a mask before and after activities (once a socially distanced cool down period has occurred). A mask can only be removed during exercise/workouts.
Team drills are permissable.
Locker rooms should not be utilized.
Intentional contact will be minimized between athletes. Maintain physical distancing outside of drills.
Hand washing should be conducted at regular intervals.
All athletic equipment/balls are cleaned intermittently during workouts.
All students shall bring their own water bottle. Water bottles must not be shared.

---

The following is the AIA Fall 2020-21 athletics calendar for high school:

Golf
First practice – Aug. 17
First competition – Aug. 24
Championships – Oct. 26-29 (Div. I), Nov. 2-5 (Div. II)

Cross Country
First Practice – Aug. 24
First Competition – Sept. 9
Championships – Nov. 12-13

Swimming & Diving
First Practice – Aug. 24
First Competition – Sept. 14
Championships – Nov. 5-7

Badminton
First Practice – Aug. 31
First Competition – Sept. 14
Championships – Nov. 7 (Individuals), Nov. 9-12 (Teams)

Volleyball
First Practice – Aug. 31
First Competition – Sept. 21
Championships – Nov. 12-21

Football
First Practice – Sept. 7
First Competition – Sept. 30-Oct. 3
Championships – Dec. 11/12 (4A-6A & Open)

---

Can I attend an athletic event?



We recognize that there are many individuals in our community that want to attend games and events that support our student athletes and performers. We also recognize how valuable that support system is for our students. At this time, we are pleased to offer two free spectator tickets to our student participants who have a direct role in the game-day home events or performances. For AIA away games, the ticket policy is determined by the opposing school district, please contact them for more information.

A reminder that all attendees will need to wear a mask and plan to leave it on for the duration of the event, per our current city and county-wide mask mandate. All attendees will be encouraged to physically distance.

The process to obtain the free tickets for home games/events will be determined by each school site.

Much like returning to school, we will be monitoring COVID-19 data, and update you as it is safe to phase-in larger audiences to support our students.