Site Council
Foothills needs your voice! By Arizona state statute and alignment to PUSD Governing Board policy, each school in our district should be represented by its parents, community, and staff. This is a group of individuals that meet regularly to discuss topics such as curriculum, school programs, school finances, buildings, and safety. Our role is to help develop understanding and transparency in relation to school and related district operations. Furthermore, we would appreciate your perspective in new programs and we want you to help evaluate these programs in collective ways.

2020-21 School Year Calendar

October 28th, November 18th, December 16th , January 13th, February 10th, March 10th, April 14th, May 12th

6:00pm

We meet virtually (Zoom) until we confirm we can meet on campus this school year.
SITE COUNCIL INITIATIVE- CREATIVE RECYCLING PROGRAM 2017-18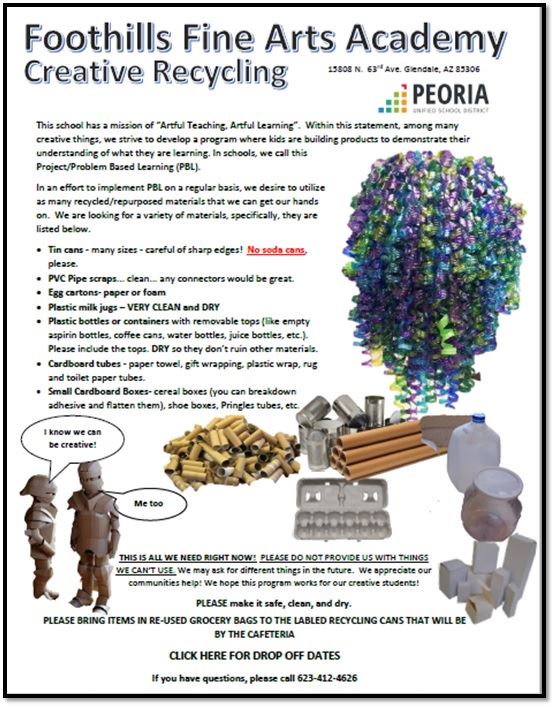 "Creative Recycling" is actually creative repurposing of materials that students can make things with. The idea of making things, or some relate to "hands-on learning", is a learning moment that utilizes creativity as a means for students to demonstrate their understanding of concepts they are learning in ANY subject. These align with Project Based Learning techniques and State Stanards we teach everyday. We desire to dig deeper into this concept more and more within our mission and vision of "Artful Teaching, Artful Learning."

Click here to learn about Project Based Learning