Foothills Elementary School
Foothills was built during a great deal of growth in the Peoria Unified School District. The school was built during the housing boom of the early 1980's and ever since it has been the heart of the neighborhood. Foothills is known for is tight knit and family orientated staff, its active PTSO, and a tradition of excellence. It is "home" to all who have called themselves Falcons over the years. The school itself is a great example of schools built in the 70's and 80's in Arizona. It has a great "house like" feel with its angled pitched roofs and a warm brick facade. Fifteen years ago the "Foothills Family" took a leap and started the Foothills Fine Arts Academy in partnership with the Peoria Unified Arts Education Department. Since that time the desire to grow children, the staff and the community in creative and innovative ways has spiraled into what we believe to be the best school in the valley.
15808 N 63rd Ave, Glendale, AZ 85306

Grades: PK-8

School Hours: 8:00am-3:00pm

Office Hours: 7:30am-4:00pm

Phone: 623-412-4625

Attendance: 623-412-4633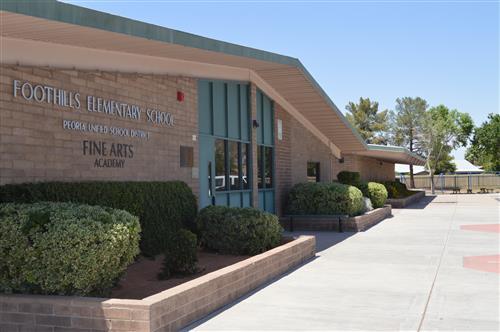 The Foothills Manefesto
Foothills strives to provide an environment for continued success. Please click the link below to find out more about our commitment to our school and our shared values and beliefs regarding assessment, community, instruction, and school environment.