Tryouts and General Information
Important Meeting Regarding Tryouts:

Friday (October 30th) – Either 7:00 am or 2:20 pm

Try-outs begin Monday, November 9th

You must be cleared through RegisterMyAthlete.com before participating

Week of November 9th schedule:

Monday:

Varsity Players' Meeting: 4 - 4:30 pm in room 3-108.

Varsity Practice/Try-Outs: 4:30 - 6:30 pm

Tuesday:

Freshman Meeting: 5:30 - 6 pm in room 3-108.

Freshman Tryouts: 6 - 8:30 pm

JV and Varsity Practice/Tryouts: 2:45 – 5 pm

Wednesday:

Varsity Tryouts: 11 am – 1 pm

Freshman and JV Tryouts: 11 am - 2 pm

Thursday - Saturday:

Check the website for practice times.
In order to participate, all athletes need the following:

This can only be obtained if you have received a physical, received your concussion certificate from aiaonline.org, and created and completed your account in "Register My Athlete" https://www.registermyathlete.com/. If you do not do these things, you cannot be cleared, even for tryouts; therefore, it's imperative that you get that immediately. Please click on "Athletic Clearance" under the Athletics tab for more information.

If you are currently in a fall sport, you must turn in all of your equipment prior to try-outs. Failure to do so will result in you not getting cleared to participate in the try-outs.

Please wear proper athletic shoes and mesh shorts. We highly recommend players not buying brand new shoes for the season until after tryouts.

Practices are open to the trainer, the coaching staff, and administration. Please understand it is to give the athletes a chance to give their full attention without any distractions.

We ask for your understanding that due to volleyball in the state playoffs, our schedules during that first week are subject to change to accommodate their practice schedules and potentially their game schedules.

Parent night (information will come after the tryouts are complete)

The basketball season requires full commitment on behalf of all participants. Vacations, appointment, etc. will have to be scheduled around basketball events.

Any player who makes the team will need to pay a participation fee. A player still in a fall sport will receive his try-out when their season is over. Our complete schedule is available on our website: www.leaguelineup.com/libertyhoops. Please look at our calendar and make all doctors' appointments, vacations, etc. around the practice and game schedule. Players must be present for all basketball related functions.

We thank you for your support of our basketball program,

Liberty Coaching Staff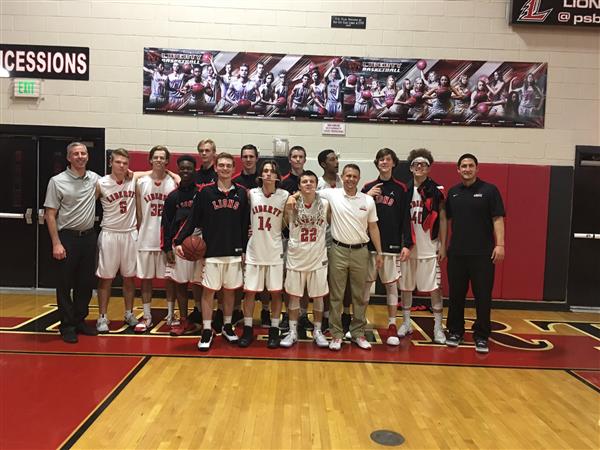 BACK TO BACK REGION TITLE FOR MEN'S BASKETBALL
Congratulations to our Men's Basketball Team for winning the Region Championship for 2016-2017 And 2017-2018.
About Men's Basketball
We exist to empower our athletes in order to be champions on and off the court by instilling toughness and developing them as leaders who embody trust, enthusiasm, selflessness, courage and effort.

Basketball is a Winter sport and tryouts are usually held in October. Basketball camps and clinics are sometimes offered during the school year or summer. We have three teams, Freshmen, JV and Varsity, all three levels compete in regular season games and the Varsity team also participates in tournaments.