Gifted Education in Peoria Unified
District Vision - Every student, every day, prepared to shape tomorrow


Gifted Services Philosophy

Peoria Unified School District recognizes that each gifted student is unique in the scope of their aptitudes and abilities. Providing flexible and varied learning experiences to expand the academic, creative, and social emotional aspects of each gifted child is integral to their success. Stimulating learning opportunities and appropriate resources are provided to support the advancement of individual interests, talents and strengths of our gifted students.

Goals:

Provide a K-12 continuum of services
Identify those students who are gifted by designing multiple screening and selection procedures and instruments to accurately identify gifted students, especially students who are traditionally underserved such as minority, EL, and twice-exceptional students
Develop, refine and implement gifted curriculum and service differentiation with respect to content, process, product and environment
Encourage students to become independent learners, effective problem solvers, and creative thinkers
Assist students in developing an understanding of self and how their unique characteristics may influence interactions with others
Provide academic enrichment and acceleration for gifted students
Assist students in communicating information, ideas, and solutions clearly and accurately
Train as many teachers as possible about the unique needs of gifted students


State Law

Arizona Revised Statutes-effective January 1, 2007

Arizona Revised Statute 15-779 defines a "gifted pupil" as a child who is of lawful school age, who due to superior intellect or advanced learning ability, or both, is not afforded an opportunity for otherwise attainable progress and development in regular classroom instruction and who needs appropriate gifted education services, to achieve at levels commensurate with the child's intellect and ability.

Arizona Revised Statute 15-779 defines "gifted education" as appropriate academic course offerings and services that are required to provide an educational program that is an integral part of the regular school day and that is commensurate with the academic abilities and potential of a gifted pupil.
Discovering, Expanding and Celebrating the Gifts and Talents of all Learners

The Federal Programs Department provides an increasingly comprehensive, challenging K-12 curriculum to meet the needs and enhance the talents of gifted learners. In order to achieve this goal, the gifted team has concentrated on the following objectives:

Searching, refining and designing multiple screening and selection procedures and instruments to accurately identify gifted students;
Developing, refining and implementing gifted curriculum and service differentiation with respect to content, process, product and environment;
Collaboratively developing and supporting site-based programs and interdepartmental projects with administrators, teachers, parents and students to address the unique, diverse needs of gifted learners;
Investigating assessment procedures to measure student's growth and program effectiveness.

Learn more about Choice Programs in Peoria Unified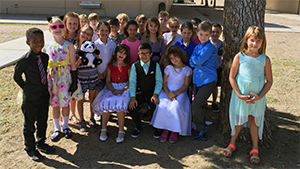 Signature Programs
Apache Gifted Academy

K-2 SEARCH

3-8 Self-contained

8633 W John Cabot Rd., Peoria, AZ 85382


Copperwood Center for Differentiated Instruction

1-2 SEARCH

3-8 Self-contained (highly gifted)

11232 N 65th Ave., Glendale, AZ 85304