Gifted Education in Peoria Unified
District Vision - Every student, every day, prepared to shape tomorrow


Gifted Services Philosophy

The Peoria Unified School District believes that not all gifted students are identical. Program modifications for gifted students are sufficiently varied and flexible so that those students are provided stimulating learning experiences and appropriate resources to reach their fullest potential.


Goals

Students will discover new ideas or solutions to situations by using their own thinking processes along with cognitive, creative, and affective learning experiences. Students will uncover the joy of exploration and discovery that will make them lifelong learners.


State Law

Arizona Revised Statutes-effective January 1, 2007

Arizona Revised Statute 15-779 defines a "gifted pupil" as a child who is of lawful school age, who due to superior intellect or advanced learning ability, or both, is not afforded an opportunity for otherwise attainable progress and development in regular classroom instruction and who needs appropriate gifted education services, to achieve at levels commensurate with the child's intellect and ability.

Arizona Revised Statute 15-779 defines "gifted education" as appropriate academic course offerings and services that are required to provide an educational program that is an integral part of the regular school day and that is commensurate with the academic abilities and potential of a gifted pupil.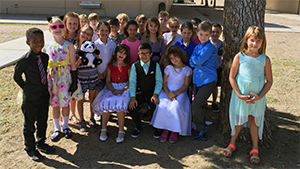 Signature Programs
Apache Gifted Academy

K-2 SEARCH

3-8 Self-contained

8633 W John Cabot Rd., Peoria, AZ 85382


Copperwood Center for Differentiated Instruction

1-2 SEARCH

3-8 Self-contained (highly gifted)

11232 N 65th Ave., Glendale, AZ 85304