All 2023 Summer EdCamp locations have reached capacity and now have a waitlist
2023 Summer EdCamp
Fun and Discovery for Kindergarten through 8th Grade!

The same quality full-day program as KidZone but offered when school is not in session.
Students engage in a variety of activities including arts & crafts, science experiments, building challenges and gross motor games.

Available to Peoria Unified School District students ages 5+ that are entering Kindergarten through 8th grades in the 2023-2024 school year.
When and Where?
June 1 – August 2, 2023
Monday-Friday, 6 a.m. – 6 p.m.
Available at Three Locations:

Foothills Elementary School, 15808 N. 63rd Ave.
Frontier Elementary School, 21258 N. 81st Ave.
Sahuaro Ranch Elementary School, 10401 N. 63rd Ave.
Summer EdCamp Fees
Prices: $40 a day, depending on enrollment selection. All pricing listed in table below.

EdCamp Daily $40.00

EdCamp Summer Drop-In Rate $44.00

Space is limited.
Some schools fill quickly.
Registrations accepted on a first-come, first-served basis.
All dates and locations are subject to change.
All listed fees are proposed fees and are pending Peoria Unified School District Governing Board approval.
Summer EdCamp FAQ
Any student that is 5 years-old and older, entering Kindergarten to 8th grade that is ENROLLED in a Peoria Unified school for the 2023-2024 school year.

All registrations are completed online

Our program runs Monday - Friday 6 AM to 6 PM, except on noted holidays/closures. EdCamp locations are held at Foothills, Frontier, and Sahuaro Ranch.

Breakfast, Lunch, and two snacks are all included at no additional cost to all students, but a sack lunch is acceptable, and a water bottle is needed. If a sack lunch is needed, there will be prior notification.

For ONE student the cost is $40.00 per day. For families with multiple children the cost will be full price for the first child and a 15% off discounted rate for additional children thereafter.

Payments are due every Friday for the upcoming week. If a payment is late this could result in your child's spot not being held.

The Summer EdCamp program will plan weekly events both on campus and off campus, with signed permission slips, all at no additional cost. There may be some field trips that have optional, additional costs, such as the movie theater. We will notify families in advance of these trips and additional money is always optional.

On off campus trip days, students will need to be at the site 30 minutes prior to departure in order to participate and will need to wear the KidZone shirt that will be provided. If students have not arrived in time to depart, they will not be allowed to stay as we will not have staff left behind. Students are welcome to join us once we have returned from the field trip.

No, it is not recommended that students bring in any belongings as there will be plenty of things provided in each classroom for them to do and play with.

Yes. All children attending Summer EdCamp must currently be enrolled in a Peoria Unified elementary school.

All children attending Summer EdCamp must be at least 5 years old. In addition, children must be enrolled for kindergarten-8th grade for the 2023-2024 school year.

No. Parents are responsible for providing transportation to and from Summer EdCamp.

No. Refunds/credits will not be given for missed days.

Yes. Our program is not licensed for diapering. All students must be potty trained.

It is our policy that someone at least 18 years old sign students out of Summer EdCamp. In addition, they must be listed on the Emergency Blue Card and show proof of ID.

Yes, with a fully completed medicine consent form signed and provided to the site with medicine in an original labeled bottle.

We do accept families on DES Assistance. A parent or guardian will need to notify their case worker to approve the site, then our office will contact the family with the out-of-pocket cost.

We group children by grade levels. It is based on how many students of each grade level register, but typically we split classrooms Kindergarten- 2nd grade and 3rd-8th

We will have weekly themes that the staff will plan around. A day might consist of the following: centers, group games, crafts, science experiments, weeklong projects, gross motor play, story time, quiet time, in house field trips/vendors, off campus field trips, computer lab… and much more.

Students may attend EdCamp after their summer school shift, however, there is no pro-rated fee. Transportation for summer school is only provided to and from the hosting school and home school.

Each classroom has approximately 25 students.

Yes, the daily summer rate is $16.50 per day.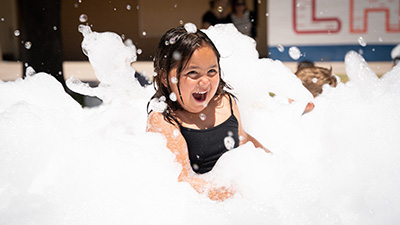 Classroom Site Phone Numbers
Foothills: 623-512-2217
Frontier: 623-512-2216
Sahuaro Ranch: 623-512.2067